---
Zdzislaw Constantin Majrowski (Meyro) .........(1)
(29/05/1952 - )

---
The artist about himself: I graduated from Warsaw Academy of Fine Arts in 1979 at the atelier of Jan Lis. Apart from formal schooling, I started my own studies of historical European paintings.

1981 exhibition in Munich (pastiches of XVII century Dutch masters).

In the eighties I have completely changed my approach to painting and have started searching for my own way of creation . I must mention here the huge essential help of Mrs.Gertrude Abramowic (Sonia), the great friend of Elton John from his Paris period. I was able to study and create many painting in the atelier especially created for me in Cologne, Germany. I have escaped from objective way of watching and started to search new artistic forms to extract pure energy. Pure energy and emotions became motto of my painting. I have passed all periods of modern art, from monochromatic compositions to contrast impasto and reliefs. I have passed from classical drawing by deformation to constructionism. I like mixed media but oil on canvas is the one I appreciate the best.
"Oasis of Peace", 2019, oil on canvas, 80 x 100 cm, private collection
"Dream about the Meadow", 2020, oil on canvas, 100 x 150 cm, private collection
"Power of Calm", 2019, oil on canvas, 70 x 120 cm, private collection

"Night Journey", 2019, oil on canvas, 60 x 120 cm, private collection
"Composition 68", 2017, oil on canvas, 85 x 125 cm, private collection
"Fiery Feeling", 2020, oil on canvas, 100 x 80 cm, private collection

"Wide Horizon", 2018, oil on canvas, 90 x 120 cm, private collection
"Untitled", 2018, oil on canvas, 40 x 50 cm, private collection
"Untitled", 2019, oil on canvas, 40 x 50 cm, private collection

---
ARTWORKS of CONTEMPORARY POLISH ARTISTS for SALE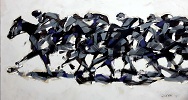 ARTWORKS of CONTEMPORARY POLISH ARTISTS for SALE